Product Code: A06966
According to a new report published by Allied Market Research, titled, "Banking Wearable Market," The banking wearable market was valued at $13.7 billion in 2022, and is estimated to reach $62.7 billion by 2032, growing at a CAGR of 16.8% from 2023 to 2032.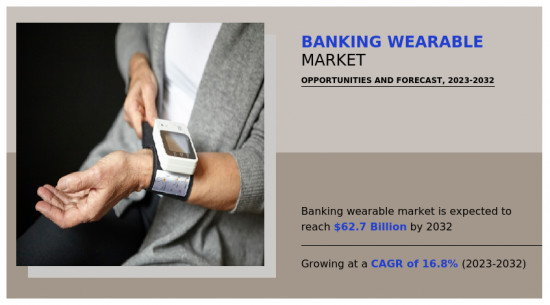 The increase in demand for host card emulation (HCE) is a key driver for the growth of banking wearable market. The increasing preference for convenience and speed in contactless transactions has spurred the demand for HCE technology. HCE technology helps users to securely make contactless payments via their mobile devices, eliminating the need for physical cards. This viable solution simplifies the payment process and eliminates the need to carry multiple cards as consumers opt for contactless payments. In addition, the growth in adoption of cashless transaction and increase in demand for wearable payment devices are the major driving factors for the market. However, the high cost of banking wearable devices is a major factor hampering the growth of the market. The high costs associated with banking wearable devices have prevented individuals and businesses from adopting these devices, which is hindering the growth of the market. In addition, fees vary for services related to wearable devices and contactless payments, such as maintenance, referrals, and upgrades. Contrarily, the integration of digital banking services presents a significant opportunity for the banking wearable industry. The integration of banking wearables and digital banking services allow users to access various banking functions directly from their wearables. Users may check account balances, view transaction history, send money, receive real-time notifications, and more. This integration will enhance the overall banking experience, giving users convenient and instant access to financial information and services.
The banking wearable market is segmented on the basis of type, technology, application, and region. On the basis of type, it is categorized into fitness tracker, payment wristbands, smart watches, and others. By technology, it is divided into near field communication (NFC), quick response (QR) codes, radio frequency identification (RFID), and others. On the basis of application, it is segregated into retail, entertainment centers, restaurants and bars, healthcare, and others. On the basis of region, it is analyzed across North America, Europe, Asia-Pacific, and LAMEA.
The report analyzes the profiles of key players operating in the banking wearable market such as Google LLC, Apple Inc., Fidesmo, Xiaomi Corporation, Visa Inc., Wirecard, Thales, Nymi Inc., Gemalto NV, and Samsung Electronics. These players have adopted various strategies to increase their market penetration and strengthen their position in the banking wearable market.
Key Benefits for Stakeholders
The study provides in-depth analysis of the global banking wearable market along with the current & future trends to illustrate the imminent investment pockets.
Information about key drivers, restrains, & opportunities and their impact analysis on the global banking wearable market size are provided in the report.
Porter's five forces analysis illustrates the potency of buyers and suppliers operating in the industry.
The quantitative analysis of the global banking wearable market from 2022 to 2032 is provided to determine the market potential.
Additional benefits you will get with this purchase are:
Quarterly Update and* (only available with a corporate license, on listed price)
5 additional Company Profile of client Choice pre- or Post-purchase, as a free update.
Free Upcoming Version on the Purchase of Five and Enterprise User License.
16 analyst hours of support* (post-purchase, if you find additional data requirements upon review of the report, you may receive support amounting to 16 analyst hours to solve questions, and post-sale queries)
15% Free Customization* (in case the scope or segment of the report does not match your requirements, 20% is equivalent to 3 working days of free work, applicable once)
Free data Pack on the Five and Enterprise User License. (Excel version of the report)
Free Updated report if the report is 6-12 months old or older.
24-hour priority response*
Free Industry updates and white papers.
Possible Customization with this report (with additional cost and timeline talk to the sales executive to know more)
Investment Opportunities
Upcoming/New Entrant by Regions
Market share analysis of players by products/segments
Regulatory Guidelines
Additional company profiles with specific to client's interest
Additional country or region analysis- market size and forecast
Key player details (including location, contact details, supplier/vendor network etc. in excel format)
SWOT Analysis
Key Market Segments
By Type
Fitness Tracker
Payment Wristbands
Smart Watches
Others
By Technology
Near Field Communication (NFC)
Quick Response (QR) Codes
Radio Frequency Identification (RFID)
Others
By Application
Retail
Entertainment Centers
Restaurants and Bars
Healthcare
Others
By Region
North America
Europe

UK
Germany
France
Italy
Spain
Rest of Europe

Asia-Pacific

China
Japan
India
Australia
South Korea
Rest of Asia-Pacific

LAMEA

Latin America
Middle East
Africa
Key Market Players:
Apple Inc.
Fidesmo
Gemalto NV
Google LLC
Nymi Inc.
Samsung Electronics
Thales
Visa Inc.
Wirecard
Xiaomi Corporation
TABLE OF CONTENTS
CHAPTER 1: INTRODUCTION
1.1. Report description
1.2. Key market segments
1.3. Key benefits to the stakeholders
1.4. Research Methodology

1.4.1. Primary research
1.4.2. Secondary research
1.4.3. Analyst tools and models
CHAPTER 2: EXECUTIVE SUMMARY
CHAPTER 3: MARKET OVERVIEW
3.1. Market definition and scope
3.2. Key findings

3.2.1. Top impacting factors
3.2.2. Top investment pockets

3.3. Porter's five forces analysis

3.3.1. Moderate-to-high bargaining power of suppliers
3.3.2. Moderate-to-high threat of new entrants
3.3.3. Low-to-moderate threat of substitutes
3.3.4. Moderate-to-high intensity of rivalry
3.3.5. Low-to-high bargaining power of buyers

3.4. Market dynamics

3.4.1. Drivers

3.4.1.1. Growth in adoption of cashless transaction
3.4.1.2. Increase in demand for host card emulation (HCE)
3.4.1.3. Increase in demand for wearable payment devices
3.4.2. Restraints

3.4.2.1. High costs of banking wearable devices
3.4.3. Opportunities

3.4.3.1. Increase in use of NFC and RFID
3.4.3.2. Integration of digital banking services
3.5. COVID-19 Impact Analysis on the market
CHAPTER 4: BANKING WEARABLE MARKET, BY TYPE
4.1. Overview

4.1.1. Market size and forecast

4.2. Fitness Tracker

4.2.1. Key market trends, growth factors and opportunities
4.2.2. Market size and forecast, by region
4.2.3. Market share analysis by country

4.3. Payment Wristbands

4.3.1. Key market trends, growth factors and opportunities
4.3.2. Market size and forecast, by region
4.3.3. Market share analysis by country

4.4. Smart Watches

4.4.1. Key market trends, growth factors and opportunities
4.4.2. Market size and forecast, by region
4.4.3. Market share analysis by country

4.5. Others

4.5.1. Key market trends, growth factors and opportunities
4.5.2. Market size and forecast, by region
4.5.3. Market share analysis by country
CHAPTER 5: BANKING WEARABLE MARKET, BY TECHNOLOGY
5.1. Overview

5.1.1. Market size and forecast

5.2. Near Field Communication (NFC)

5.2.1. Key market trends, growth factors and opportunities
5.2.2. Market size and forecast, by region
5.2.3. Market share analysis by country

5.3. Quick Response (QR) Codes

5.3.1. Key market trends, growth factors and opportunities
5.3.2. Market size and forecast, by region
5.3.3. Market share analysis by country

5.4. Radio Frequency Identification (RFID)

5.4.1. Key market trends, growth factors and opportunities
5.4.2. Market size and forecast, by region
5.4.3. Market share analysis by country

5.5. Others

5.5.1. Key market trends, growth factors and opportunities
5.5.2. Market size and forecast, by region
5.5.3. Market share analysis by country
CHAPTER 6: BANKING WEARABLE MARKET, BY APPLICATION
6.1. Overview

6.1.1. Market size and forecast

6.2. Retail

6.2.1. Key market trends, growth factors and opportunities
6.2.2. Market size and forecast, by region
6.2.3. Market share analysis by country

6.3. Entertainment Centers

6.3.1. Key market trends, growth factors and opportunities
6.3.2. Market size and forecast, by region
6.3.3. Market share analysis by country

6.4. Restaurants and Bars

6.4.1. Key market trends, growth factors and opportunities
6.4.2. Market size and forecast, by region
6.4.3. Market share analysis by country

6.5. Healthcare

6.5.1. Key market trends, growth factors and opportunities
6.5.2. Market size and forecast, by region
6.5.3. Market share analysis by country

6.6. Others

6.6.1. Key market trends, growth factors and opportunities
6.6.2. Market size and forecast, by region
6.6.3. Market share analysis by country
CHAPTER 7: BANKING WEARABLE MARKET, BY REGION
7.1. Overview

7.1.1. Market size and forecast By Region

7.2. North America

7.2.1. Key trends and opportunities
7.2.2. Market size and forecast, by Type
7.2.3. Market size and forecast, by Technology
7.2.4. Market size and forecast, by Application
7.2.5. Market size and forecast, by country

7.2.5.1. U.S.
7.2.5.1.1. Key market trends, growth factors and opportunities
7.2.5.1.2. Market size and forecast, by Type
7.2.5.1.3. Market size and forecast, by Technology
7.2.5.1.4. Market size and forecast, by Application
7.2.5.2. Canada
7.2.5.2.1. Key market trends, growth factors and opportunities
7.2.5.2.2. Market size and forecast, by Type
7.2.5.2.3. Market size and forecast, by Technology
7.2.5.2.4. Market size and forecast, by Application

7.3. Europe

7.3.1. Key trends and opportunities
7.3.2. Market size and forecast, by Type
7.3.3. Market size and forecast, by Technology
7.3.4. Market size and forecast, by Application
7.3.5. Market size and forecast, by country

7.3.5.1. UK
7.3.5.1.1. Key market trends, growth factors and opportunities
7.3.5.1.2. Market size and forecast, by Type
7.3.5.1.3. Market size and forecast, by Technology
7.3.5.1.4. Market size and forecast, by Application
7.3.5.2. Germany
7.3.5.2.1. Key market trends, growth factors and opportunities
7.3.5.2.2. Market size and forecast, by Type
7.3.5.2.3. Market size and forecast, by Technology
7.3.5.2.4. Market size and forecast, by Application
7.3.5.3. France
7.3.5.3.1. Key market trends, growth factors and opportunities
7.3.5.3.2. Market size and forecast, by Type
7.3.5.3.3. Market size and forecast, by Technology
7.3.5.3.4. Market size and forecast, by Application
7.3.5.4. Italy
7.3.5.4.1. Key market trends, growth factors and opportunities
7.3.5.4.2. Market size and forecast, by Type
7.3.5.4.3. Market size and forecast, by Technology
7.3.5.4.4. Market size and forecast, by Application
7.3.5.5. Spain
7.3.5.5.1. Key market trends, growth factors and opportunities
7.3.5.5.2. Market size and forecast, by Type
7.3.5.5.3. Market size and forecast, by Technology
7.3.5.5.4. Market size and forecast, by Application
7.3.5.6. Rest of Europe
7.3.5.6.1. Key market trends, growth factors and opportunities
7.3.5.6.2. Market size and forecast, by Type
7.3.5.6.3. Market size and forecast, by Technology
7.3.5.6.4. Market size and forecast, by Application

7.4. Asia-Pacific

7.4.1. Key trends and opportunities
7.4.2. Market size and forecast, by Type
7.4.3. Market size and forecast, by Technology
7.4.4. Market size and forecast, by Application
7.4.5. Market size and forecast, by country

7.4.5.1. China
7.4.5.1.1. Key market trends, growth factors and opportunities
7.4.5.1.2. Market size and forecast, by Type
7.4.5.1.3. Market size and forecast, by Technology
7.4.5.1.4. Market size and forecast, by Application
7.4.5.2. Japan
7.4.5.2.1. Key market trends, growth factors and opportunities
7.4.5.2.2. Market size and forecast, by Type
7.4.5.2.3. Market size and forecast, by Technology
7.4.5.2.4. Market size and forecast, by Application
7.4.5.3. India
7.4.5.3.1. Key market trends, growth factors and opportunities
7.4.5.3.2. Market size and forecast, by Type
7.4.5.3.3. Market size and forecast, by Technology
7.4.5.3.4. Market size and forecast, by Application
7.4.5.4. Australia
7.4.5.4.1. Key market trends, growth factors and opportunities
7.4.5.4.2. Market size and forecast, by Type
7.4.5.4.3. Market size and forecast, by Technology
7.4.5.4.4. Market size and forecast, by Application
7.4.5.5. South Korea
7.4.5.5.1. Key market trends, growth factors and opportunities
7.4.5.5.2. Market size and forecast, by Type
7.4.5.5.3. Market size and forecast, by Technology
7.4.5.5.4. Market size and forecast, by Application
7.4.5.6. Rest of Asia-Pacific
7.4.5.6.1. Key market trends, growth factors and opportunities
7.4.5.6.2. Market size and forecast, by Type
7.4.5.6.3. Market size and forecast, by Technology
7.4.5.6.4. Market size and forecast, by Application

7.5. LAMEA

7.5.1. Key trends and opportunities
7.5.2. Market size and forecast, by Type
7.5.3. Market size and forecast, by Technology
7.5.4. Market size and forecast, by Application
7.5.5. Market size and forecast, by country

7.5.5.1. Latin America
7.5.5.1.1. Key market trends, growth factors and opportunities
7.5.5.1.2. Market size and forecast, by Type
7.5.5.1.3. Market size and forecast, by Technology
7.5.5.1.4. Market size and forecast, by Application
7.5.5.2. Middle East
7.5.5.2.1. Key market trends, growth factors and opportunities
7.5.5.2.2. Market size and forecast, by Type
7.5.5.2.3. Market size and forecast, by Technology
7.5.5.2.4. Market size and forecast, by Application
7.5.5.3. Africa
7.5.5.3.1. Key market trends, growth factors and opportunities
7.5.5.3.2. Market size and forecast, by Type
7.5.5.3.3. Market size and forecast, by Technology
7.5.5.3.4. Market size and forecast, by Application
CHAPTER 8: COMPETITIVE LANDSCAPE
8.1. Introduction
8.2. Top winning strategies
8.3. Product Mapping of Top 10 Player
8.4. Competitive Dashboard
8.5. Competitive Heatmap
8.6. Top player positioning, 2022
CHAPTER 9: COMPANY PROFILES
9.1. Google LLC

9.1.1. Company overview
9.1.2. Key Executives
9.1.3. Company snapshot
9.1.4. Operating business segments
9.1.5. Product portfolio
9.1.6. Business performance
9.1.7. Key strategic moves and developments

9.2. Thales

9.2.1. Company overview
9.2.2. Key Executives
9.2.3. Company snapshot
9.2.4. Operating business segments
9.2.5. Product portfolio
9.2.6. Business performance
9.2.7. Key strategic moves and developments

9.3. Apple Inc.

9.3.1. Company overview
9.3.2. Key Executives
9.3.3. Company snapshot
9.3.4. Operating business segments
9.3.5. Product portfolio
9.3.6. Business performance
9.3.7. Key strategic moves and developments

9.4. Fidesmo

9.4.1. Company overview
9.4.2. Key Executives
9.4.3. Company snapshot
9.4.4. Operating business segments
9.4.5. Product portfolio
9.4.6. Key strategic moves and developments

9.5. Samsung Electronics

9.5.1. Company overview
9.5.2. Key Executives
9.5.3. Company snapshot
9.5.4. Operating business segments
9.5.5. Product portfolio
9.5.6. Business performance
9.5.7. Key strategic moves and developments

9.6. Xiaomi Corporation

9.6.1. Company overview
9.6.2. Key Executives
9.6.3. Company snapshot
9.6.4. Operating business segments
9.6.5. Product portfolio
9.6.6. Business performance
9.6.7. Key strategic moves and developments

9.7. Visa Inc.

9.7.1. Company overview
9.7.2. Key Executives
9.7.3. Company snapshot
9.7.4. Operating business segments
9.7.5. Product portfolio
9.7.6. Business performance
9.7.7. Key strategic moves and developments

9.8. Nymi Inc.

9.8.1. Company overview
9.8.2. Key Executives
9.8.3. Company snapshot
9.8.4. Operating business segments
9.8.5. Product portfolio
9.8.6. Key strategic moves and developments

9.9. Wirecard

9.9.1. Company overview
9.9.2. Key Executives
9.9.3. Company snapshot
9.9.4. Operating business segments
9.9.5. Product portfolio

9.10. Gemalto NV

9.10.1. Company overview
9.10.2. Key Executives
9.10.3. Company snapshot
9.10.4. Operating business segments
9.10.5. Product portfolio